Nissan X Trail - Video tutorial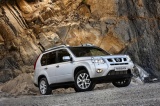 Model: Nissan X Trail T31, MK 2 - Years 2007-2014
Part: Checks and maintenance
Operation: How to reset the Nissan X-Trail airbag warning light?
In order to reset the Nissan X-Trail's airbag warning light, you have to go inside the passenger compartment and turn on the instrument panel. This should remain lit until the airbag warning light starts flashing; at this point the panel must be switched off for a few seconds and this operation must be repeated three times. The fourth time the operation is repeated, after turning on the ignition, the airbag warning light will not start flashing, but will go off after a few seconds. After the warning light has been reset, it will be possible to verify that it goes out by switching the instrument panel off and on.
Posted on 19 October 2021
by
Scegli
Auto
Other guides that may interest you
Frequently Asked Questions
How to reset the AdBlue light on the Peugeot 3008 1.5 BlueHDi
Today we will see, in this short guide, the necessary procedure that will allow us to reset the AdBlue spy on the Peugeot 3008 1.5 BlueHDi. Before resetting the AdBlue warning light, the correct fluid level must have been restored; then we get on board the car and connect our diagnostic software, as shown in the video. At this point let's go to the troubleshooting or AdBlue reset item, in order to reset it; we are waiting for the countdown to complete the reset operation!
by

Scegli

Auto
---
More videos