Alfa Romeo 159 - Video tutorial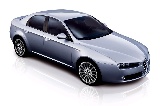 Model: Alfa Romeo 159 MK 1 - Years 2005-2011
Part: Car stereo
Operation: How to disassemble the original car radio of an Alfa Romeo 159
How to disassemble the original car radio of an Alfa Romeo 159? Let's see carefully how to perform the disassembly following the illustrative video. We use the original or aftermarket metal dongles to disassemble the car stereo. Insert the keys into the holes on the plastic covering of the stereo (on the sides), pull the stereo towards us (as in the video), extract the car radio, paying attention to the various wiring of the same (disconnect the power supply terminals and antenna cable). Finally we reassemble the original car radio or one of a generic brand with a special adapter for the input and for the connection of the terminals.
Posted on 30 September 2022
by
Scegli
Auto
How to remove the steering wheel of an Audi A3
How to remove the steering wheel of an Audi A3? Let's see in this video how to proceed with the removal. Before disassembling the steering wheel airbag, we disassemble the battery clamps; we insert the disassembly keys into the slots on the rear of the steering wheel and unlock the airbag. Once the airbag is released: disconnect the power supply terminals and remove it from the steering wheel. We unscrew the large central pin and remove the steering wheel from the barrel. For reassembly: we insert the steering wheel into the steering tube and screw the nut, then, we connect the clamp of the airbag supply and press the same on the steering wheel with our hands (we screw the locking pins.
by

Scegli

Auto
---
More videos