Mini - Video tutorial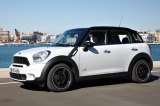 Model: Mini Mini R60, Countryman1 - Years 2010-2016
Part: Checks and maintenance
Operation: How to remove the engine light in the Mini Cooper?
In this videotutorial we can see how to remove the yellow engine failure warning light in the Mini Cooper, it should be noted that this procedure does not solve the problem, but in fact, it only removes the warning light. However, this is a procedure that helps to identify the type of fault. As we can see, we need the scan tool shown in the video, to be plugged into the socket under the dashboard, on the left side. Once connected, turn on the instrument panel and start the scan, the error code relating to the problem will appear on the display. Navigating the menu up to the "erase" item, as shown in the video, we press the Enter key to remove the spy. Finally, we turn the panel off and on again to check that everything has gone well.
Posted on 17 November 2021
by
Scegli
Auto
Frequently Asked Questions
Where is the central locking fuse on the Volkswagen Golf located?
The Volkswagen Golf central locking fuse is located in the fuse box located on the left side of the dashboard: to reach it, you will need to remove the protective cover, locating the fuse in the third row of fuses starting from the car. The central locking fuse is the 20 Ampere one and must be removed and replaced with one of the same amperage; Once the new fuse has been installed, you will be able to check that the central locking is working properly and you will be able to close the box again with the relevant panel.
by

Scegli

Auto
---
More videos