Mitsubishi Asx - Video tutorial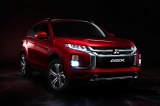 Model: Mitsubishi Asx MK 1 - Years 2010-2020
Part: Outside rearview mirror
Operation: How to replace the exterior mirror on a Mitsubishi ASX
Before we begin, we will have to open the door of our Mitsubishi ASX. So let's start by disassembling and removing the door panel, disengaging and removing the inserts. Next, we will have to unscrew and remove the fixing screws, and finally we will have to disengage the door panel itself. Once this is done, we will have reached the mirror fixing nuts. We then proceed by disconnecting the relative electrical connector, and then unscrewing and removing the fixing nuts. At this point, we will be able to extract and remove the external rearview mirror, and the disassembly will be completed. To mount the new mirror, all we have to do is repeat these instructions in reverse, and we will have completed the replacement.
Posted on 22 January 2022
by
Scegli
Auto
How to remove the steering wheel of an Audi A3
How to remove the steering wheel of an Audi A3? Let's see in this video how to proceed with the removal. Before disassembling the steering wheel airbag, we disassemble the battery clamps; we insert the disassembly keys into the slots on the rear of the steering wheel and unlock the airbag. Once the airbag is released: disconnect the power supply terminals and remove it from the steering wheel. We unscrew the large central pin and remove the steering wheel from the barrel. For reassembly: we insert the steering wheel into the steering tube and screw the nut, then, we connect the clamp of the airbag supply and press the same on the steering wheel with our hands (we screw the locking pins.
by

Scegli

Auto
---
More videos