Mitsubishi Asx - Video tutorial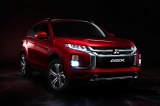 Model: Mitsubishi Asx MK 1 - Years 2010-2020
Part: Checks and maintenance
Operation: How to open the front hood of a Mitsubishi ASX
Before we are able to begin, we will have to open the front door of the driver's side of our Mitsubishi ASX. Let's start by pulling the front hood opening lever, located near the door hinge. After that, we will have to head towards the front hood, and then unhook the hook inside the slot. By doing so, we will have freed the front hood itself. At this point, we will have to lift the hood, and then fix it in place with the appropriate side rod. When we have fixed the front hood of our Mitsubishi ASX in place, we will have finished the procedure.
Posted on 14 March 2022
Frequently Asked Questions

What does the tire pressure warning light on a Mitsubishi ASX mean? Read Answer
How to replace an engine air filter on Volkswagen Polo
Let's see how to remove and replace the engine air filter of a Volkswagen Polo: we open the car door, pull up the engine compartment opening lever located at the bottom left of the dashboard and lift up the front hood, we secure the same with the rod (piston). Remove the engine soundproofing panel (if necessary), then open the air kit (unscrew the tightening screws), uncover the filter box cap and extract the engine air filter. We insert a new filter in the dedicated housing (making it adhere well around the walls). Finally we reassemble the cap of the air box and tighten the screws. We close the front hood after maintenance.
by

Scegli

Auto
---
More videos