Nissan Qashqai - Video tutorial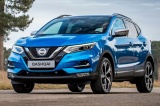 Model: Nissan Qashqai J11 - Years 2014-2022
Part: Instrument cluster
Operation: How to remove the instrument panel on a Nissan Qashqai
How to remove the instrument panel on a Nissan Qashqai? Let's see how to perform the disassembly of the pieces: we remove the plastic of the coating under the steering wheel with a lever and remove the air vent on the side of the instrument panel. Unscrew the clamping screws of the instrument panel with a screwdriver; after removing the plastics: remove the power button (right side) from the dashboard and detach the plastics in the center of the panel. Unscrew the tightening screws around the instrument panel and remove it together with the power cable located in the rear of the instrument panel. We mount a new piece or (we replace the leds / bulbs from the panel) we reassemble the same.
Posted on 16 August 2022
Frequently Asked Questions
How to replace the pollen filter on a Peugeot 2008
How to replace the pollen filter mounted inside the engine compartment of a Peugeot 2008? Let's see in this video how to disassemble the filter placed in the dedicated housing. With a screwdriver we unscrew the screws of the plastic coating placed under the front windshield, then, with a lever, remove the filter holder cover (where the air filter is present). Remove the cap from the filter holder with a screwdriver and extract the cabin filter. We insert a new filter making it adhere well around the walls of the box. Finally we reassemble the filter box cap and tighten the screws. We close the bonnet after maintenance.
by

Scegli

Auto
---
More videos