Peugeot 207 - Video tutorial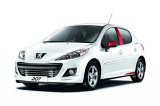 Model: Peugeot 207 MK 1 - Years 2006-2015
Part: Door panel
Operation: Removing the door panel on Peugeot 207
On Peugeot 207 there are three torx t20 screws that hold the panel anchored to the door: one is located in the drawer of the same door, the others on the two side walls of the same and are all well shown in the video. To access it, simply remove the screw covers using a plastic wedge or a small flat-head screwdriver (be careful not to scratch the panel). At this point, using once again a wedge or a plastic lever, remove the panel from the door: while doing this, disconnect the various internal cables present. As you can see, this is a fairly simple operation.
Posted on 3 November 2021
How to replace an engine air filter on Volkswagen Polo
Let's see how to remove and replace the engine air filter of a Volkswagen Polo: we open the car door, pull up the engine compartment opening lever located at the bottom left of the dashboard and lift up the front hood, we secure the same with the rod (piston). Remove the engine soundproofing panel (if necessary), then open the air kit (unscrew the tightening screws), uncover the filter box cap and extract the engine air filter. We insert a new filter in the dedicated housing (making it adhere well around the walls). Finally we reassemble the cap of the air box and tighten the screws. We close the front hood after maintenance.
by

Scegli

Auto
---
More videos