Peugeot 2008 - Video tutorial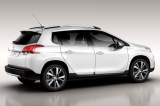 Model: Peugeot 2008 MK 1 - Years 2013-2019
Part: Cabin air filter
Operation: How to replace the pollen filter on a Peugeot 2008
How to replace the pollen filter mounted inside the engine compartment of a Peugeot 2008? Let's see in this video how to disassemble the filter placed in the dedicated housing. With a screwdriver we unscrew the screws of the plastic coating placed under the front windshield, then, with a lever, remove the filter holder cover (where the air filter is present). Remove the cap from the filter holder with a screwdriver and extract the cabin filter. We insert a new filter making it adhere well around the walls of the box. Finally we reassemble the filter box cap and tighten the screws. We close the bonnet after maintenance.
Posted on 5 October 2022
by
Scegli
Auto
Frequently Asked Questions

Peugeot 2008 2019-2026 - Where is the cabin air filter located in the Peugeot 2008? Read Answer
Peugeot 2008 2013-2019 - Where is the pollen filter located on Peugeot 2008? Read Answer
How to replace the fuel pump of the Opel Corsa C
Usually, when the ignition is first switched on, a noise similar to a spray is heard coming from the rear part of the passenger compartment: it is the petrol pump that pressurizes the system and prepares to power the engine for ignition; if this sound is not heard, start by checking the integrity of the relative power supply fuse and if this is intact, check that voltage reaches the power socket itself; if even in this case the current arrives, then it is still possible to try to feed the pump directly to be sure that it is precisely it that is damaged; replacing it is very simple, it is enough to disconnect the socket and the pipes and then unhook the fixing ring nut and extract it to replace it with a new one.
by

Scegli

Auto
---
More videos