Peugeot 2008 - Video tutorial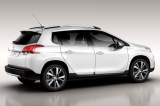 Model: Peugeot 2008 MK 1 - Years 2013-2019
Part: Cabin air filter
Operation: How to replace the pollen filter on a Peugeot 2008
How to replace the pollen filter mounted inside the engine compartment of a Peugeot 2008? Let's see in this video how to disassemble the filter placed in the dedicated housing. With a screwdriver we unscrew the screws of the plastic coating placed under the front windshield, then, with a lever, remove the filter holder cover (where the air filter is present). Remove the cap from the filter holder with a screwdriver and extract the cabin filter. We insert a new filter making it adhere well around the walls of the box. Finally we reassemble the filter box cap and tighten the screws. We close the bonnet after maintenance.
Posted on 5 October 2022
by
Scegli
Auto
Frequently Asked Questions

Peugeot 2008 2019-2026 - Where is the cabin air filter located in the Peugeot 2008? Read Answer
Peugeot 2008 2013-2019 - Where is the pollen filter located on Peugeot 2008? Read Answer
How to remove the steering wheel of an Audi A3
How to remove the steering wheel of an Audi A3? Let's see in this video how to proceed with the removal. Before disassembling the steering wheel airbag, we disassemble the battery clamps; we insert the disassembly keys into the slots on the rear of the steering wheel and unlock the airbag. Once the airbag is released: disconnect the power supply terminals and remove it from the steering wheel. We unscrew the large central pin and remove the steering wheel from the barrel. For reassembly: we insert the steering wheel into the steering tube and screw the nut, then, we connect the clamp of the airbag supply and press the same on the steering wheel with our hands (we screw the locking pins.
by

Scegli

Auto
---
More videos