Volkswagen Golf - Video tutorial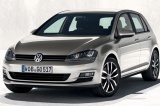 Model: Volkswagen Golf MK 7, Golf 7, Golf VII - Years 2012-2019
Part: Outside rearview mirror
Operation: How to remove the mirror of a Golf 7
Let's see how to remove the mirror of the outside mirror of a Golf 7. With a lever with plastic coating, we go to pry between the perimeter of the mirror frame and the mirror. We pry until the slide detaches from the mirror (we disconnect the power cable); very delicate operation because the slide could break anyway. We press on the locking clips to disconnect the mirror cover, replace the damaged piece with the new one. We are careful to engage the plastic snap clips in the mirror supports.
Posted on 25 October 2022
by
Scegli
Auto
Frequently Asked Questions

Golf 2012-2019 - Why don't the Volkswagen Golf 7 mirrors close? Read Answer
Golf 2012-2019 - How to replace the glass in the exterior mirror in the Volkswagen Golf? Read Answer
Golf 2012-2019 - How much does a Golf 7 outside rearview mirror cost? Read Answer
How to reset the AdBlue light on the Peugeot 3008 1.5 BlueHDi
Today we will see, in this short guide, the necessary procedure that will allow us to reset the AdBlue spy on the Peugeot 3008 1.5 BlueHDi. Before resetting the AdBlue warning light, the correct fluid level must have been restored; then we get on board the car and connect our diagnostic software, as shown in the video. At this point let's go to the troubleshooting or AdBlue reset item, in order to reset it; we are waiting for the countdown to complete the reset operation!
by

Scegli

Auto
---
More videos