Fiat Panda - Video tutorial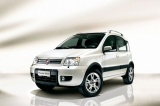 Model: Fiat Panda MK 2, 169 - Years 2003-2012
Part: Engine oil
Operation: How to change the engine oil of a Fiat Panda
We replace engine oil on a Fiat Panda. Simple operation by following the right steps, we see in this video how to proceed. We lift the car on a column or jack bridge, unscrew the oil pan pin with a socket wrench (after removing the protective plastic panel), drain the liquid into a container for disposal and screw the pin back on cup (unscrew the filter placed next to it with a socket wrench). After removing the oil from the engine, we bring the car to the ground and raise the engine hood. We top up the engine with the new liquid.
Posted on 27 October 2022
by
Scegli
Auto
This video is currently unavailable
Frequently Asked Questions
How to reset the AdBlue light on the Peugeot 3008 1.5 BlueHDi
Today we will see, in this short guide, the necessary procedure that will allow us to reset the AdBlue spy on the Peugeot 3008 1.5 BlueHDi. Before resetting the AdBlue warning light, the correct fluid level must have been restored; then we get on board the car and connect our diagnostic software, as shown in the video. At this point let's go to the troubleshooting or AdBlue reset item, in order to reset it; we are waiting for the countdown to complete the reset operation!
by

Scegli

Auto
---
More videos