Volkswagen Golf - Video tutorial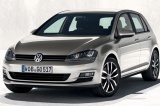 Model: Volkswagen Golf Golf 7, Golf VII, MK 7 - Years 2012-2019
Part: Key
Operation: How to remove the battery of the Volkswagen Golf 7 key
Let's see how to open the key remote control of a Volkswagen Golf 7 Series? We take our remote control and press the release button of the metal key; once the metal key has come out, we go with the help of a screwdriver to pry between the two covers of the key (in the space where the metal key is to be housed). We pry until the cover opens, then, extract the worn battery with a small screwdriver, take a new one of the same size and voltage. Let's join the two parts: we press on the key case until you hear the lock click. We check the exact operation of the remote control by operating the buttons.
Posted on 29 September 2022
by
Scegli
Auto
Frequently Asked Questions
How to remove the steering wheel of an Audi A3
How to remove the steering wheel of an Audi A3? Let's see in this video how to proceed with the removal. Before disassembling the steering wheel airbag, we disassemble the battery clamps; we insert the disassembly keys into the slots on the rear of the steering wheel and unlock the airbag. Once the airbag is released: disconnect the power supply terminals and remove it from the steering wheel. We unscrew the large central pin and remove the steering wheel from the barrel. For reassembly: we insert the steering wheel into the steering tube and screw the nut, then, we connect the clamp of the airbag supply and press the same on the steering wheel with our hands (we screw the locking pins.
by

Scegli

Auto
---
More videos