Citroen C5 - Video tutorial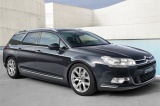 Model: Citroen C5 MK 2, X7, RD - Years 2008-2017
Part: Timing belt
Operation: Replace timing belt on Citroen C5
How to replace the timing belt on Citroen C5? We lift the car on a column or jack bridge (if necessary, we remove the front wheel, with a screwdriver the right wheel guard). Once these operations have been carried out, we raise the engine hood, remove the engine soundproofing panel and the belt cover (plastic or metal). With a suitable fixed wrench we loosen the belt tensioner roller and remove the belt from its seat. With a socket wrench we go to unscrew the tightening pin of the belt tensioner roller, remove the water pump as in the video. We assemble the new water pump (previously disassembled), the belt tensioner and the belt itself, we tighten everything with the socket wrench. Finally we assemble the cover of the belt rollers.
Posted on 12 August 2022
Frequently Asked Questions

C5 2000-2008 - How many km to replace the timing belt of the Citroen C5? Read Answer
How to change the gear knob of the Renault Scenic
Replacing the gear knob on this car is very simple. First, pull the knob vigorously towards you to detach it from the gear lever; once removed, pay attention to the spring positioned inside. Take the new knob and place it on the lever after putting the spring back in its place; with a sharp blow you can attach the knob to the lever. It could happen that when the knob is removed, the white plastic attached to the iron lever will also come off; in this case, before putting the knob back on, attach this white plastic to the lever and then, on it, the knob.
by

Scegli

Auto
---
More videos